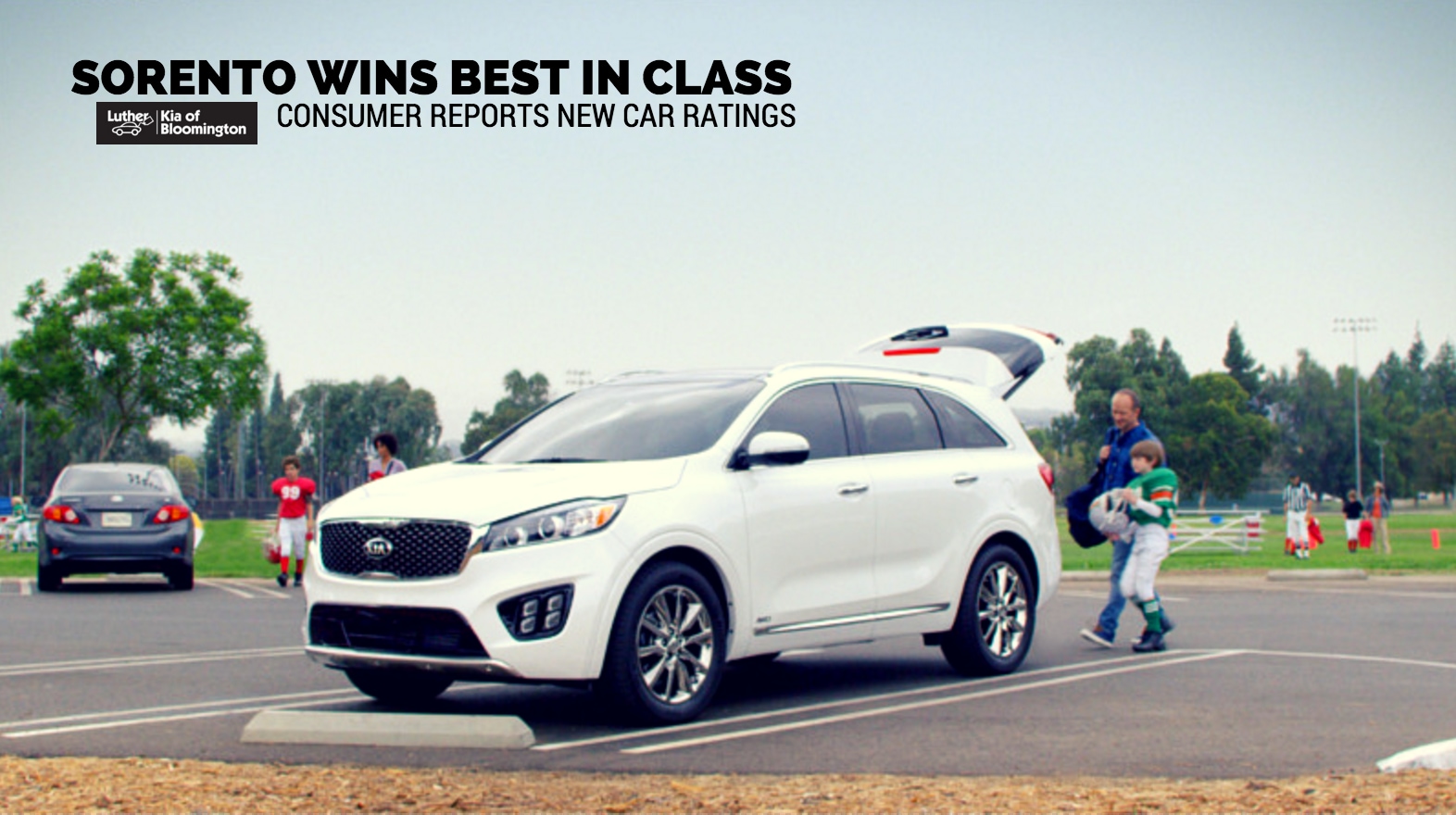 Consumer Reports ranks the KIA Sorento best in class in the SUV: Mid-sized segment.
Here is what that means and why it's a big deal. >>
Overall Score: 84
What does the overall score mean? The overall score takes into account the results of the Consumer Reports road testing, reliability and owner satisfaction survey results, and the availability of front crash prevention technology.
The KIA Sorento scored the highest overall score in the mid-sized SUV segment! That means Consumer Reports enjoyed the driving experience and saw that Sorento drivers did too. It also compliments the Sorento safety ratings.
The 2016 KIA Sorento is an IIHS 2016 Top Safety Pick and received 5 stars from the NHTSA.
Road-Test Score: 84
What does this mean? Consumer Reports tests each vehicle for quality concerning acceleration, braking, fuel economy and more. Altogether, each vehicle goes through over 50 tests. The KIA Sorento received high scores on all road-test results.
Test Drivers for Consumer Reports gave the KIA Sorento the highest rating for controls.
The Sorento also received top ratings in Predicted Reliability and Owner Satisfaction surveys.
Consumers enjoy the Sorento SUV and we think you will too. Learn more about the KIA Sorento on our Research page.
Find the KIA Sorento for sale near Golden Valley, MN at Luther Bloomington Kia dealership. We have new, CPO and pre-owned KIA's for sale. >> Click here to view our online inventory.
Want to experience the KIA Sorento for yourself? Stop by and test drive a KIA Sorento for sale near Golden Valley, MN. Schedule a test drive or contact us at 952-881-7800.
Interested in shopping pre-owned? Find Certified Pre-Owned vehicles and used cars at Luther Bloomington KIA dealer Minneapolis.
---
Follow us on Social Media.
Facebook | Twitter | Instagram | Google+ | Pinterest
This blog is brought to you by the Luther Bloomington KIA dealership located in Bloomington, Minnesota. We proudly serve Minneapolis, Golden Valley, Richfield, Bloomington and the surrounding areas.
Browse our online inventory.